Traveler's Tales: We're recently returned from a trip to Europe where we climbed to the top of St. Peter's Basilica in Rome.
I've done it before, but this time I took photos and have descriptions in case anyone wants to know what it's like.
The dome was designed by Michelangelo and has looked over Rome for a very long time. If you can climb on a beautiful day like we did, you'll be happy you did.
First you have to get through the security line and into St. Peter's proper.
The day we were there, the week before Holy Week, the line was lengthy. We stood in line 70 minutes just to put our possessions through the metal detector.
We made good use of the time by listening to Rick Steve's podcast about St. Peter's on my phone. Indeed, others in line listened in!
Once through, we went directly to the duomo climb. We debated a moment between taking the elevator to the part of the roof where the tall apostles and Jesus look over St. Peter's square.
It's 551 steps to the very top, but you can avoid 231 if you ride the elevator.
We hiked up.
I'm a moderately fit middle-aged woman, and I was prepared–you'll notice I had to tie my sweater around my waist. We had anticipated poor weather that day and were pleasantly surprised!
The steps begin pretty easily–which is deceptive–and quickly become more challenging.
Taking the elevator saves you some heavy breathing, but the steeper stairs, of course, begin as you climb around the dome.
You can follow our climb: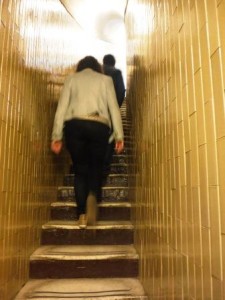 Not bad here, but then we encountered a slanting dome:
This was my third climb. In 1985, the interior of the stairs was simply plaster and covered in graffiti. I paused at one spot and burst out laughing: "Kilroy was here!"
After a while, you get a break and can walk out onto a narrow platform, hedged in with a thick fence, to view the floor below. We're above the main altar, of course, and this is a view you don't see from below!
Mass was about to begin and you can see the folks sitting in the pews. Note how tiny they look!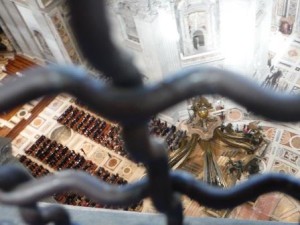 This platform, which goes around most of the interior rim, also allows you to see some of the decoration close up. The art is beautiful and large so it can be seen from down below.
Some of it is mosaic, which I didn't realize from the floor of the basilica.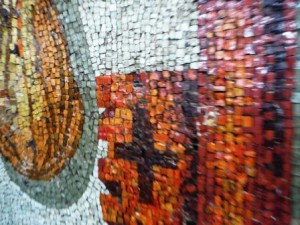 Once we caught our breath, we returned to the stairs, which only grew narrower. Slit windows occasionally appear with a tiny platform that allows tired climbers to admire the view–and let faster hikers by.
When you get to the twisting narrow final curved staircase, you're thankful for that rope handle!
Success!
The climb took us 20 minutes.
The views are spectacular!
Of course, once you've had your fill of the view–and for us that was when a group of red-faced German tourists finally arrived and their tour guide used a microphone to explain all–you get to climb down again!
Another 320 steps down and you're back on the roof with plenty of room to move around and breath the clean air.
We spent a little time on the roof behind those tall apostles (see the first photo and notice how small they look)
They're not really small.
A gift shop awaits you up here, a place to fill your water bottle and a bathroom. It's a good spot to catch your breath and prepare for the final climb down, which isn't bad. You can also take an elevator from here.
We laughed at the pigeon, first.
We continued walking down wide comfortable stairs and exited onto the floor of St. Peter's basilica itself. Mass was being conducted at the main altar and ethereal singing filled the splendid cathedral.
The perfect ending to a glorious hike.
Tweetables
551 steps up and you, too, could be on the top of St. Peter's dome. Click to Tweet
How long does it take to climb St. Peter's dome? Click to Tweet
Photos from a woman's climb up St. Peter's Click to Tweet