Our dear friend in faith Hillary has spent the last eight months with us, home in the United States from Sicily where she's been working for a faith-based nonprofit that does community development.
She returns to minister to that part of the world next week. We're going to miss her.
While we've known Hillary since she was in high school, our association with her has intensified over the years as her heart has centered around, prepared her for and finally placed her in Italy. It's been interesting to watch this journey toward a life of service for God.
Her interest in people who travel far distances to share the good news of Jesus Christ was whetted from hearing missionaries speak in her church and telling stories of their ministries in foreign lands. She read autobiographies of missionaries and wondered if God would be calling her to serve in a similar way.
Ten years ago, she attended Italian language classes at our local junior college. She parlayed those language skills into a semester-long course in Florence, Italy where she fell in love with the country.
The next summer, she traveled to assist in a church in northern Italy and felt "not so much a musing, but a feeling as if the Lord was speaking to my heart and saying this is where he's leading me," she said.
She earned a degree in Bible from Multnomah Bible College. Hillary taught junior high Bible studies, prayed for friends and missionaries, continued working on her Italian language skills, studied the Bible, took Bible Study Fellowship courses, worked at a Christian camp (Mt. Gilead Christian Conference Center)  and waited to see what God would do.
Other trips to Italy followed, more language study, valiant attempts to find an organization that could use her skills, but everything had a "wait" feel to it, so she continued working her job as a barista.
Her heart stirred even more when she took the Perspectives Course on world missions.
Two years ago, she joined us for dinner, excited about an organization that might have a spot for her. "Have you ever heard of Christian Associates?" she asked us.
"I think our old friend Rob Fairbanks is the president of that organization," I said.
Her eyes widened, and like others before her, she laughed. "Of course you would know someone who works for them."
She went through their training, was accepted into the program and eighteen months ago went to Catania, Sicily to work with a small community of Christians seeking to establish Bible studies with local Sicilians.
It was close to my heart. Hillary's working on the southern flanks of Mt. Etna (which has thrown lava in her direction many times now). My mother was born on the north side of Mt. Etna, and who knows how far back the members of my familia have lived in la bella Sicilia?
During the time she was in Italia, we shared emails, occasional Skype calls and me up with her last fall when we were in Europe. My job? To encourage her, listen to her stories, pray for her and connect her back with home.
She's not my child, but I know her family and many of her friends.
Of which she has many.
Romans 12: 9-13 talks about ways Christians can support one another. It's a good list of ways we can help those who serve to advance the Gospel of Jesus Christ whether overseas or in our home nation:
"9 Love must be sincere. . . 10 Be devoted to one another in love. Honor one another above yourselves.11 Never be lacking in zeal, but keep your spiritual fervor, serving the Lord.12 Be joyful in hope, patient in affliction, faithful in prayer. 13 Share with the Lord's people who are in need. Practice hospitality."
Hillary returned eight months ago on furlough to work on obtaining a long term visa to continue the task of serving with Christian Associates. She also needed to do some fund raising, but more important to her was the need to find prayer support.
"Prayer is the real work," Hillary said. "The role the Lord gave me while I was home was to raise up prayer support. I told people what God is doing in Italy and asked them to pray."
She didn't worry a great deal about the monetary support she needed. "I put my faith in the Lord. I trust him because he will provide. He's my provider, I knew he would take care of the finances. It's not within my human capabilities to move someone's heart," she said. "I want them to give out of joy to his service."
Hillary views both prayer and resources as "partnering" with her in the ministry God has called her to. "I've been telling people about what God is doing and asking them to pray."
In Sicily, Hillary and her colleagues have been encouraging, forming, and developing a community of people who desire to know and follow Jesus.
"We do this by building relationships, one-on-one; and encouraging small group discipleship." She's holding the future in open hands to see how God will work once she returns. "I can't say from this side of the ocean what will happen next or how I will work,  because I'd be importing my own ideas of what I think it should look like."
She's returning with a heart open to whatever the Lord wants, keenly aware her American upbringing could be misinterpreted by the people she's trying to serve.
"I'm not trying to make my ministry look like something I think will be right or effective. I want to do what the Lord thinks will be right for the people I'll be serving."
During her time in Sicily, Hillary's concept of ministry altered slightly.
"Ministry for someone serving full time overseas, is two-fold. It's: two-directional:  where they are physically in the country where they're living, and it's working alongside the people who are supporting them and making that work possible back home."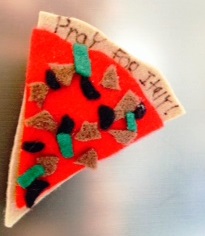 Over and over she stressed the need for prayer as the foundation for her work. She even has encouraged people to pray for Italy whenever they eat pizza, or some other Italian delicacy!
We have been honored and thankful to have her live with us the last eight months. Hillary has provided plenty of conversation about theological topics, questions about how God works and opportunities to pray. You can read about some of her experiences on her blog, faithful still.
Check out these particular posts for insight into Hillary's soul:
On P-R-A-Y-I-N-G for Half-an-HOUR
How do you support those who work overseas for the sake of the Gospel of Jesus Christ?
Join us in praying for Hillary and Sicily, won't you?