Vickie McDonough's The Fruitcake Bride will finish up the 12 Brides of  Christmas ebook series on December 22. The story should be fully seasoned and rich by then!
The author of many novels set in the old west, particularly in Texas, Vickie McDonough had no problem choosing a time period for her 14th novella.
"I love reading novels set in the late 1800's, and it's the time period that most of the books I've written are set in, so when I started brainstorming ideas for The Fruitcake Bride, it was natural for me to set my novella in 1890."
She chose her subject matter from a list of titles provided by Barbour Publishing. "I figured not too many people would want to write The Fruitcake Bride story. Being how I'm a little fruity, I thought I'd take a stab at it. I was thrilled when my editor loved my story idea."
Vickie started with the idea of a young pastor headed west to prepare a home for his prospective bride before she joined him. Along the way, he encountered a problem: a troublesome woman named Prudy with designs on him!
Vickie was surprised by Prudy's strong personality. "She's a bit of a Nellie Olson from Little House on the Prairie type of character." She wasn't originally in the story, "but I needed more conflict. Prudy more than a little graciously added that as she popped in, bent on marrying the preacher—the same man my heroine is engaged to," Vickie said.
You can purchase the final 12 Brides of Christmas novella, The Fruitcake Bride, here.
Prudy gets her own story in The County Fair Bride, and she changes a lot. Clay and Karen and others from The Fruitcake Bride also will appear in the next novella.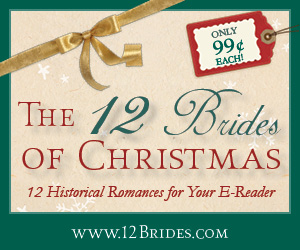 The County Fair Bride releases as an e-book only  on June 1, 2015.
Spiritual themes run strong in this novella collection.
"Karen, my heroine has lots of doubts that she is the right woman for Pastor Clay. They've been friends for many years, but their engagement is rushed when her aunt dies. Karen isn't sure she is cut out to be a pastor's wife. She prays a lot and seeks God's will to be sure she's not making a mistake.

"Clay never doubts his love for Karen, and he ends up being a good example of how God's love for us is so strong and everlasting."
Given her past books, research for this novella wasn't too difficult for Vickie. She merely had to ensure Advent, Texas was a fictional town and examine fruitcake recipes. In terms of her characters, she feels they reflect her stubbornness, faith in God and concern to do the right thing.
Vickie is the descendant of early 1700's pioneer from Germany who emigrated to the Lancaster area of Pennsylvania and later traveled west to Kansas and Oklahoma. "I am quite enamored with books about settling in the Old West, but if I had a chance to live in the 1800's, I'd have to decline. I'm too much a creature of comfort—and I'd have to wear dresses."
Vickie is thrilled to be working with "such a great cast of authors and is excited to hear what the readers think of the 12 Brides of Christmas Collection."
She'd like to invite all those reading this interview to  sign up for her newsletter to keep up with her book news. Click on this link to sign-up: http://www.vickiemcdonough.com/www.vickiemcdonough.com/Newsletter_Sign-up.html
 Who is Vickie McDonough? Click to Tweet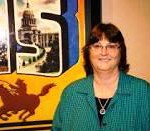 Vickie McDonough is the author of 33 novels and novellas, including two books in the Texas Trails: Morgan Family series, The Texas Boardinghouse Brides, The Pioneer Promises series and A Pioneer Christmas Collection. Vickie has been married 39 years and she and her husband live in Oklahoma and have four grown sons.
She's the blogger on the tenth of each month at Heroes, Heroines and History.
For more information about Vickie and her books, visit her website: www.vickiemcdonough.com
You can also find her on
You can purchase The Fruitcake Bride, here.
For those of you who prefer to read on paper rather than in pixels, The Fruitcake Bride is part of  The Heartland Christmas Brides, a collection sold in select Walmart stores nation-wide.
This is the final week to purchase individual ebooks for 99 cents. All twelve stories will be collected into one volume next September and, appropriately, titled The Twelve Brides of Christmas!
Sequels to all twelve stories in this collection will be sold as ebooks starting in June, 2015. Watch for them on the www.12Brides.com website for more information!
Merry Christmas!