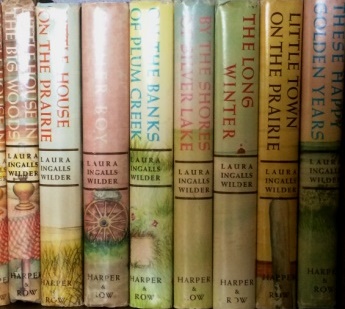 I first glimpsed Laura Ingalls Wilder's books when I was in second grade at Seventh Street School.
Our school was brand new that year and the library was filled with new books, new tables, new chairs and new students.
I used to sit facing the W section of fiction and there at eye level was a row of books will matching covers. Intrigued, I yearned for permission to pick up the light blue covers and find out what was inside.
Perhaps it's the age–seven–or the skill level: newly reading and ready  try chapter books, but while didn't know what the stories were, I wanted to read them all, from first to last.
I'm not sure who decided I was mature enough to select my own book, but I quickly learned the Little House Books had a definite order. On that first day of permission, the first book was checked out.
I'm an orderly person, and it killed me to do so, but I was so intrigued by this series, I checked out book #2: Little House on the Prairie.
I loved the book, immediately.
The pages were soft to my hands, the font friendly to my eyes and Garth Williams' whimsical drawings charmed me.
I cannot tell you, now, how many times I've read the entire series.
Indeed, I've read all eight books out loud to my four children on five different occasions. One memorable snowy day in Connecticut, I read aloud The Long Winter from start to finish! Click to Tweet
My boys took to the stories with wide eyes and late into childhood, if they complained about Christmas presents, I'd say, "What did Laura and Mary get for Christmas?"
They wouldn't complain after that.
These books became my introduction to the prairie life of the United States and in a curious way, linked me to my own grandmother–the American one whose ancestors had ridden wagons across the country to settle in Mayfield, Utah, about the same time the Ingalls family headed west.
I was amazed the day my grandmother (born in 1905) handed me a small pitcher and said, "when I was a little girl, I'd take this pitcher and one egg to the mercantile where the owner would fill it with kerosene."
This little pitcher that I can still hold in my hand!
My grandmother also hated Indians, just like Laura Ingalls Wilder's dog Jack.
I was always used the full name: Laura Ingalls Wilder, when I talked about her books. It seemed more honoring that way.
From Laura Ingalls Wilder's books I learned a lot about American history and pioneer life.
As an adult, I've learned a lot of it is revisionist and not always accurate.
Laura's experienced journalist daughter Rose most likely edited, if not wrote some of, the books.
But from these stories of pioneer life, I took lessons into my own 20th and 21st century life.
I know how to make a lamp with a button and thread, for example.
I know dogs always turn around three times on their beds before going to sleep.
I know blackbirds can ruin a cornfield and grasshoppers can be a terror when they travel in a cloud.
References to her stories have turned up in all sorts of places in my life–and also in my writing.
I thought of The Long Winter when I wrote the snow scene in The Yuletide Bride.
The panther in the woods screaming in The Dogtrot Christmas is a direct reference to Little House in the Big Woods.
I originally planned to use a grasshopper plague, as in On the Banks of Plum Creek, when I wrote The Sunbonnet Bride, but upon further research realized it was too harsh a story for a 15,000 word novella. (They get hit with a more limited tornado, instead). I nodded to the leeches, however, found in Plum Creek, when I wrote my novella.
I learned more about the Ingalls family as I grew to adulthood and read countless books about them.
Even now I stare at the photos and try to overlay the girls so alive in the books on the black and white photos that survive. Click to Tweet
Reading their histories, studying the websites, helped me appreciate my least favorite story, Farmer Boy. It's all about food, one gigantic meal after another (but hey, who wouldn't like to eat apple pie for breakfast?)
When I learned Laura always loved hearing about Almanzo's childhood stuffed with food to counter balance her childhood starvation, The Long Winter made more sense and added poignancy.
(But who didn't like Cap Garland better?)
Someday my family hopes to visit De Smet, South Dakota–sort of like a pilgrimage–but until then, I'll turn the now browned pages of our paperback edition with fondness (we have two complete paperback editions), and look forward to the day I can open the second book and read to my adorable grandchildren.
Long time ago when all the grandfathers and grandmothers of today were little boys and girls or very small babies, Pa and Ma and Mary and Laura and baby Carrie left their little house in the big woods of Wisconsin. They drove away and left it lonely and empty in the clearing among the big trees, and they never saw that little house again.
I can hardly wait.
Everyone has a favorite Little House Book. What's yours? Click to Tweet
Mine? Little Town on the Prairie.
If you're interested in seeing how the Little House books influenced The Yuletide Bride, you can order it here for a mere 99 cents!