I've read My Utmost for His Highest as a daily devotional for more than 15 years.
Why would I reread the same devotional year after year when so many good ones are out there?
Because My Utmost for His Highest hones in and strikes my heart time and time again. I've grown spiritually and personally as a result.
And one day, the reading left me crying with amazement at how God used it to save me from despair–with just a title.
Backstory
I've prayed with and for many friends over the years. One day a friend asked me to pray for a specific need. Her child had gone to college and suddenly changed.
I'd known and prayed with this family for many years, though we don't live near each other, now. I remembered the day the girl was baptized. I was among her first babysitters. I've watched her and her siblings grow up through Christmas cards and occasional visits. I don't know her, but I felt like I did.
Of course I would pray.
I'm pretty good the first couple days after I'm asked, but then I let prayer "float" on promptings from the Holy Spirit. When God brings that person or prayer request to mind, I pray.
Our weekly church service provides a pause during corporate prayer for us to whisper our requests. I let my mind roam the country, silently praying for an ailing aunt, a friend in Idaho, elderly folks in New England, friends in the DC area and so on.
Almost every Sunday morning, I thought of this girl. I usually prayed for her about 8:50-9:10–depending on the length of the service.
I prayed for her safety, about her estrangement from her mother, her environment and anything else that came to mind.
And so it went for several years.
The horror
One summer day, I picked up a book about shocking activities taking place at college campuses. Because I had a teenage daughter preparing for college, I was concerned about this new trend and curious about how to protect my child from it.
Written by a prominent journalist, it was based around anecdotes from young college women.
Absolutely horrifying.
My stomach churned  as I read story after story describing the way intelligent women were debasing themselves to get the attention of men.
I couldn't believe what I was reading.
What happened to feminism?
The journalist used case studies of a half-dozen or so young women she interviewed in depth. She changed some of their personal facts and gave them aliases. I shook my head over these women's actions and their justifications for their behavior. The whole book was distasteful, but I pushed through because I believe it's important to know and understand the thinking behind trends, particularly for young women whom I often encountered on a pregnancy counseling hotline.
Two chapters from the end of the book, there she was. The young woman I'd been praying for on Sunday mornings.
When my stomach stopped heaving, I reread the description.
I read it again.
And again.
It had to be her. I was privy to family details most people wouldn't know–and which that journalist wouldn't have recognized as important when she included them.
My reaction was visceral and immediate. I spat at God. "What's the good of praying, then, if this is what happens?"
I had not prayed as much, over years, for any kid other than my own children. How could this have happened to a smart woman raised in a God-honoring home?
My brain flipped through all the pictures, the memories, the love of her parents and I cried.
The debauchery, to me, was profound.
She didn't think so.
I spun away from God and down myself, into a black hole of anger and disappointment–along with grief.
And avoided God for some time.
My Utmost for His Highest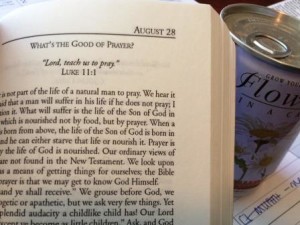 After a time, though, I revived. I could not allow a woman's poor choices destroy my spiritual life which had sustained me through far worse than this disappointment. Besides, I missed the communication I freely enjoyed with the Creator of the Universe.
I picked up My Utmost for His Highest to start an awkward time with God on August 28, and nearly dropped it when I read that day's title: "What's the Good of Prayer?"
Isn't that what I had demanded of God?
I sobbed, read, sobbed, read, and took a deep breath in relief. Here, in part, is what it said:
"Prayer is the way of life of God is nourished. Our ordinary views of prayer are not found in the New Testament. We look upon prayer as a means of getting things for ourselves; the Bible idea of prayer is that we may get to know God himself."
I had prayed for this girl as an inoculation–hoping to save her from pain and her family from confusion. When that didn't happen, I jettisoned God, rather than step back and rethink the situation.
When I stopped praying, I cut myself off from the one who could restore my soul, the one who could comfort me and help me process what this young woman had chosen over truth.
Did God not weep for her as well?
"It is not so true that "prayer changes things" as that prayer changes me and I change things. God has so constituted things that prayer on the basis of redemption alters the way in which a man looks at things. Prayer is a not a question of altering things externally, but of working wonders in a man's disposition."
Don't you love a God who cares even for the one disappointed in prayer? Not to mention the lost sheep?
And when I thought about it a little more, I realized that according to the timing the journalist recounted, I must have been praying for her during dicey, dramatic, dangerous times.
Obviously, for her, some good had come of the prayers.
Outcome
I continued to pray for this young woman when she comes to mind. (Join me right now!)
I took the book to my local Pregnancy Counseling Center and trained the volunteers on what is going on in the minds of some talented, intelligent young women–so we could understand and minister to them better.
I remember, now, that when I'm disappointed in prayer, the place to go is into more prayer; to search for Him who will comfort and will provide the peace that passes all understanding.
Thanks be to God.
And thanks to Oswald and Biddy Chambers and My Utmost for His Highest.
Tweetables
How My Utmost for His Highest helped a distraught pray-er. Click to Tweet
Has an Utmost for His Highest devotional ever helped you? How? Click to Tweet
Where do you go when you're disappointed in prayer? Click to Tweet